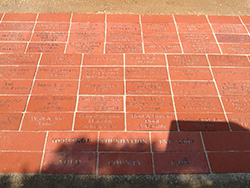 Buy a brick project is up and running. You can purchase bricks to honor someone special, remember a friend or family member. They make great gift for the person who has everything…buy a brick to mark the special occasion.
When you purchase bricks they help to create a beautiful pathway from the "Midway Circle" that will lead to the Flower House, Rotary Park, Old School House and possible other designations as it catches on. In addition to the walkway, they will help us to refurbish the grounds.
To order your brick(s) click
Blank Brick Order Form
we will be placing orders throughout the year, with all bricks being laid before the upcoming year's fair. If the order is for a gift or remembrance, please let us know and we will send a note to the appropriate person(s).